---
March 22nd, 2016
Havana's Jose Marti International Airport is typical of many airports in the "developing" world—one terminal and one carousel for our bags (AND the bags of another two flights coming in right after us).  After an hour of chaos, we found our last piece of luggage and boarded our bus into Havana.
The first thing I noticed were the old American cars.  I recalled these from my previous trip to Cuba, in 1989.  Surely, I thought, they could not still be on the road–at least not in the same numbers.
But there they were, by the dozens, clogging the traffic flow, held together with spare parts and Cuban ingenuity: Chevys, Cadillacs and Buicks, spewing diesel smoke in all of their boxy, 1950's glory.
And there was something else striking about the cityscape: it was completely devoid of billboards.  No public promotion of soft drinks, beauty products and/or the services of personal injury lawyers.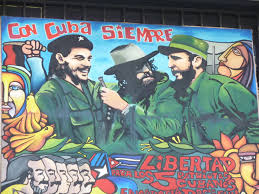 Instead, I saw large political signs proclaiming "Socialism O Muerte" (Socialism or Death) or "Con Cuba Siempre" (With Cuba Always); most with images of Fidel Castro and/or Che Guevara, along with an assortment of other revolutionary "heroes."Read the rest of this entry »