NAMM 2016: Music, Mayhem and an Ergonomic Review!
Posted on February 9, 2016 at 11:10 am
I've just gotten back from my fourth NAMM (National Association of Music Merchants) show in Anaheim, CA.  NAMM is a yearly gathering of makers and sellers of instruments, amplification systems, headphones, concert lighting, digital interfaces and many more tools for the musician.
The show is not open to the public. I attend as a volunteer with MusiCares, the health care arm of the Grammy Foundation. In that role, I spend time in the Musicares booth, advising musicians on health issues–from proper lifting techniques and nutrition to recommendations about stools, straps and other ergonomic equipment.
Then, as my rock and roll self, I cruise the Convention Center halls:  four floors packed with the latest equipment, from the classics—Gibson, Fender, Taylor, Rhodes—to the small boutique producers. Companies with names like TecAmp, Resonance N'goni, and Hapi Drum, who are creating high quality gear in small workshops around the world. Basses and guitars that you'll never find at Guitar Center; high end amps and instruments that even I had never seen before.
The din
A big noise rises from the ground, a mix of drums and horns and strings and brass and DJ's; fuzzy guitars and country and rock and jazz bands; a din that both elevates and irritates.  A dedicated rocker, I pushed myself through the musical storm.
Oh the sacrifices we make!
Some new basses
This year I focused on electric basses and guitars and amplifiers.  I was looking for originality, beauty, sound and ergonomic innovation.
I saw some great stuff.  Early on, I ran into Dr. Randall Kertz, a fellow bassist and chiropractic colleague. Dr. K is out of Chicago and treats lots of touring and local musicians.  He's a big guy, probably 6'3" so he really "gets" the mechanical stresses of playing–especially during those longer gigs.
Dr. K has developed a unique ergonomic neck called the Helix Neck System that can be added on to any bass or guitar. The neck has a slight twist that enables the hand to be in a straighter, more natural position when fretting close to the nut, resulting in less strain on the wrist and forearm.  The neck then straightens out as one slides down toward the bridge. By the bottom of the neck, it assumes a standard straight profile.
I strapped it on. The neck had a smooth quality.  I could move quickly with ease and comfort. My only question was this: Will players accept a quirky aesthetic so different from the standard design most of us grew up with? I look forward to seeing how these necks look connected to a variety of other bodies.
Around the corner I came upon Gittler Instruments.  The design of their guitars and basses is truly radical; something that Le Corbusier, the great French modernist architect and designer, might have created had he been a rocker.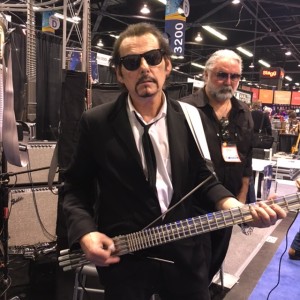 In their brochure, Alan Gittler describes better than anyone could the spirit behind his guitars. "Music is of the highest of arts…It deals with sound, motion, time—and it's invisible."  With an obvious love for the modern aesthetic, Gittler has embodied his vision with industrial precision. Made of aircraft grade titanium, these are seriously futuristic instruments. I strap on one of the metallic sticks, anchor it to my hip (the flexible design allows horizontal or vertical playing styles), and play.  Excellent action and a nice, smooth feel. Stern, yet warm. At $6500, though, it will most likely end up in the Smithsonian before it shows up in my home collection!
On the guitar front, I loved the new St. Vincent (Annie Clark) signature Musicman model.  Great feel, beautiful design and color, light and well contoured.
Amps and cabs
I started my life as a musician in the 70's, with a faux-Fender P-bass and an Acoustic combo amp. When I realized that rock stardom was not in my future and got set up in my day gig as a chiropractor, I upgraded my equipment.  That meant–in the 80's, 90's and beyond–more powerful heads and leaden 4 x 10" cabs that I would drag from gig to gig, sometimes up dark and narrow stairwells.  Sound familiar?
About three years ago, the skies opened for me: I discovered Mark Bass.  I quickly switched out my Aguilar 750 tube head (weighing in at fifty-four pounds) and back breaking Eden speakers, for a five pound, 800 watt, tube pre-amp, transistor head.  I just slip it into my back pack and pick up the little 4 x 6" cab that feels like a feather at 34 lbs.
I hung at the Mark Bass booth, saw some great music– the prog-rock Travis Larson Band (a must see!) and picked up a few new amps and speaker cabs.  I was shocked when I lifted the DV Neoclassic 212 guitar cabinet: only 27 lbs.  And I heard Travis Larson make that thing sing.
The treats kept coming as I plugged into amps by Epifani, Bergantino and Phil Jones. Sweet sounds, light weight and easy on the eyes.  It is wonderful to see that gear is being designed with the middle aged player in mind.  The makers, I suspect, are feeling their own middle ages, and designing for themselves as well as for the rest of us.
We can now go to gigs with all the power we need and still manage to lift ourselves out of bed the next morning. Sad…but oh so very true!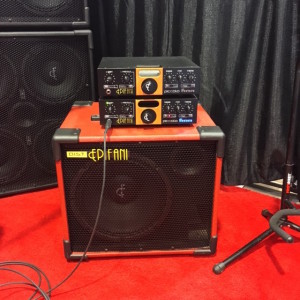 The Chinese Pavilion
The basement of the Convention Center is traditionally home to some of NAMM's more esoteric companies.  Attractions include exotic guitar woods, digital interfaces, ukuleles, fine classical guitars and "The Chinese Pavilion".  While I must admit that I have always harbored a certain disdain for imports (taking a sort of patriotic pride in the idea of Made in America), I nonetheless cruised the import aisles.
My eye was struck by a very handsome looking gig bag at Music Area, a company based in Guangdong Province, China.  It featured rugged-looking material, nicely contoured shoulder straps, plush interior padding, legs at the base of the bag to provide buffer in the case of a vertical drop and…Wheels!
Music Area had set up at NAMM, hoping to attract a US distributor, so this brand is not yet available stateside. But keep your eyes open for when they hit our market.  Though not perfect (I recommended waist and chest straps) it is hands down, the finest one I have seen.  I left the show with that bag!
Best of Show
My good friend and Renaissance man, Elton "Shyam" Bradman–drummer, bass player, writer (for Bassplayer magazine) and composer—pointed me to a booth tucked into the bowels of the basement: Tensor Bass Guitars.
The CEO of Tensor Bass Guitars is a retired engineer and bass player who recognized (as many of us do) the need for lightweight, ergonomically balanced 4- and 5-string basses.  He developed a counterweighted neck suspension system that eliminates the need for a truss rod.  His basses are light weight, and made with sustainably grown maple.  They feature neck through body, high quality electronics and are crafted by local artisans in Southern Cal.
As a bonus, there are a variety of beautiful colors with unique designs epoxied under the transparent pick guard. When I strapped one on, I was taken with how the body just naturally balanced itself on my shoulders.  And when I started playing the 5-string, the sound was clear and clean (it didn't hurt that I was playing through a nice Bergantino combo) with a super tight low "B"–just how I like it!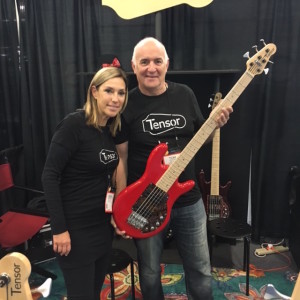 I felt that familiar sweet and painful tug on my spine, whispering its devilish refrain, "You must have this." And while the price tag was not unreasonable for an American-made boutique bass at $2850 for the 5-string ($2450 for the 4-string), it was still over my budget (not that that has always been a game stopper!).  I passed—for now.
Conclusion—it's all about the music!
After two days of hanging with music pros and serious amateurs, builders and deep appreciators, I was buzzing.  Surrounded by people who understand that music is an essential nutrient—one that feeds the human body-mind-spirit–I exulted in the positivity of the event.
I looked around at the motley crew of rockers, classical, country, jazz and blues players, all united in their love of the music, all searching for that new sound, for that feel, drawn together in a cavernous hall by a powerful vibrational pull.
I saw a tribe, coalesced for their yearly gathering–like nomads returning from the steppes to celebrate another year of living life to the fullest and most extreme.
And so, returning from NAMM, I am pleased to report that the state of our musical union is healthy and sound.  So with confidence…Rock On!
Dr. Ricky Fishman has been a San Francisco based chiropractor since 1986. In addition to the treatment of back pain and other musculoskeletal injuries, he works as a consultant in the field of health and wellness with companies dedicated to re-visioning health care for the 21st century. And he has been playing electric bass since the 70's.
Copyright 2016