Music, Art and Revolution: Cuba, 2016
Posted on March 22, 2016 at 8:23 pm
Havana's Jose Marti International Airport is typical of many airports in the "developing" world—one terminal and one carousel for our bags (AND the bags of another two flights coming in right after us).  After an hour of chaos, we found our last piece of luggage and boarded our bus into Havana.
The first thing I noticed were the old American cars.  I recalled these from my previous trip to Cuba, in 1989.  Surely, I thought, they could not still be on the road–at least not in the same numbers.
But there they were, by the dozens, clogging the traffic flow, held together with spare parts and Cuban ingenuity: Chevys, Cadillacs and Buicks, spewing diesel smoke in all of their boxy, 1950's glory.
And there was something else striking about the cityscape: it was completely devoid of billboards.  No public promotion of soft drinks, beauty products and/or the services of personal injury lawyers.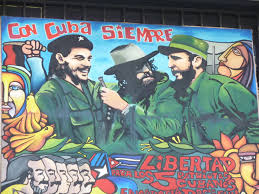 Instead, I saw large political signs proclaiming "Socialism O Muerte" (Socialism or Death) or "Con Cuba Siempre" (With Cuba Always); most with images of Fidel Castro and/or Che Guevara, along with an assortment of other revolutionary "heroes."
Day One…continued
Our first stop was Havana Viejo (Old Havana). I was immediately struck by the music.  It was everywhere: on the streets, in restaurants and cafes; bands laying down polyrhythmic beats, women and men doing rhumba to powerful Afro-Cuban grooves. The place was alive!
We ducked into a restaurant lined with dark wood paneled walls. They were covered with photos of American movie stars, their bright celebrity smiles beaming down at us through time.  We toasted with mojitos and feasted on ropa vieja and fried plantains, red beans and rice, and washed it all down with dark Bucanero beer.
After a long first day we checked in at the historic Hotel Nacional. The grand majestic building sits on a hill above Havana Bay.  It has served as home for dignitaries and entertainers from around the world, as a compound for Fidel and Che during the Cuban Missile Crisis, and as the location of a summit between Cuban government officials and high
profile American mobsters like Meyer Lansky, Lucky Luciano and Vito Genovese in the 1940's.  It was after this meeting that Lansky bought a piece of the Nacional, and developed it as a casino with luxury suites for high-stakes gamblers.  It's now a busy tourist hotel; a bit drab but with beautiful bones; a tired old lady in need of a serious makeover.
Art and Music
I had organized our program in collaboration with Altruvistas, a company    dedicated to ethical and socially aware travel.  It was titled "A Culture of Arts in Cuba". We visited the studio of "Choco," a master print maker, ceramicist and painter.
We met with Roberto Salas, who narrated his journey at age 16 from New York City to Cuba, where he became one of Fidel's personal photographers–taking some of the leader's most iconic portraits.
We also had a private concert by Mescla, a popular jazz-rock fusion band.  It was a deep daily immersion in the Cuban arts.
The Power of Art
As the "Gateway to the Americas"
since the time of Columbus, Cuba has been colonized by the Spanish, the English (briefly) and the United States. The island was home to the indigenous Taino, who were quickly killed off by hard labor and European diseases, and absorbed hundreds of thousands of African slaves. The infectious Cuban beats, melodies and harmonies were forged in this steamy and troubled tropical cauldron: a hotbed of west and north African drumming, flamenco, salsa, son, and Afro-Cuban jazz.
Art and Society
How does a society ruled by a repressive and authoritarian regime give rise to so much joyful and powerful music?  What is the relationship between the nature of a society and the art produced by that society? Does the repression create a powerful need to express individuality and a longing for freedom–or has the dynamic been simplified and molded to suit the narrative of our own politicians?
Wealth and Riches
Cuba is not rich in material wealth.  Driving down Havana's potholed streets, past crumbling colonial facades, one is acutely aware of the need for hard currency.  Fifty years of the US embargo and an historic dependency on vanished Soviet subsidies (which dried up after 1990) have taken their toll.
Yet if spiritual depth is currency, Cuba is quite rich. From Roberto Fonseco, a brilliant young jazz pianist performing at the jazz club La Zorra y El Cuervo (The Fox and the Crow)
to rhumba in the Hamel Alley; from a salsa band at the community project Muraleando to the Escuela Nacional de Musica (National Music School of Cuba) where we were serenaded by a young crop of teenage prodigies.  And at La Fabrica de  Arte Cubano,  a multi-level art and performance space that had previously been a cooking oil factory, we spent hours gazing upon fabulous  photography, painting, and video, while enjoying local Cuban cuisine and drinks from one of the several bars and restaurants.
Art, Freedom and Spirit
One of the functions of art is to embody and express the freedom of the human spirit.
Like the slaves who danced secretly beneath candle light to drums made of abandoned shipping crates (the cajon), who chanted the names of Santeria Gods that were disguised by day as Catholic saints, modern-day Cubans still assert a freedom that cannot be suppressed.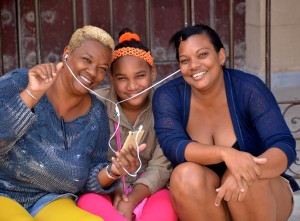 Theirs is an art that affirms the lives of the ancestors; that acknowledges the pain of the whip and the sweetness of the flamenco guitar, the beauty of the mountains and the soft ocean breezes; that raises its fist for revolution, and resists domination.
The Future
Cuba is a gem that many have lusted over for centuries. And as the US renews relations, many believe that Cuba's revolution will be defeated at last by the global marketplace; that Cubans will sell off their culture for what passes, in America, for prosperity.
But in the end, it is only the Cuban people who will own Cuba.  Cuba has its own soul; one that we cannot subvert.
As I boarded the plane to leave the island nation, I thought about the future.  All I knew for sure was that I would return.
Dr. Ricky Fishman has been a San Francisco based Chiropractor since 1986 and also leading educational tours since 1989. He will be leading a health care tour of Cuba in November, 2016. If interested, please contact him at [email protected]
Copyright 2016 Ricky Fishman
Note: Photo above, "Two Women and a Girl" by Howard Sacarob and photos without attribution by Ricky Fishman.